Our Physicians
Farhad Farzad, M.D.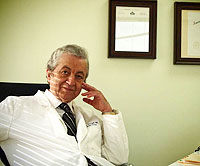 Over the last four decades, Dr. Farhad Farzad has developed his unrivaled expertise in Ophthalmology through a combination of education, research and extensive practice at some of the most prestigious ophthalmology centers around the world.
He completed medical school at Tehran University, graduating at the top of his class. Dr. Farzad earned his ECFMG certification in 1971, and continued his training with an internship at St. Mary of Nazareth Hospital in Chicago, Illinois, in 1972. He then completed his residency in Ophthalmology at Queen Victoria Hospital and Moorfields Eye Hospital, both of which are affiliated with London University, from 1972 to 1975.
Dr. Farzad served as a Professor of Ophthalmology at Tehran's National University from 1976 to 1984, and returned to Queen Victoria Hospital for a fellowship in Cornea in 1982-1983. Over the years, Dr. Farzad has had a thriving ophthalmology practice while staying abreast of the latest research and scientific/technological breakthroughs.
Currently a member of the American Academy of Ophthalmology, Dr. Farzad is on the medical staff at the Jules Stein Eye Institute of the University of California at Los Angeles, in addition to his private practice in Beverly Hills, California.
Shahriar Farzad, M.D.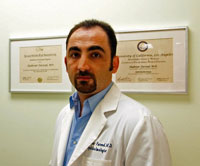 Dr. Shahriar Farzad was born in London, England, while his father, Dr. Farhad Farzad, was completing his residency at Moorfields Eye Hospital.  Now, Dr. Farzad has followed in his father's footsteps and is a board-certified eye physician and surgeon himself.
Dr. Farzad attended UCLA to obtain his undergraduate degree and graduated with honors in Biochemistry.  He earned his medical degree from the Medical College of Wisconsin, and completed an internship in Internal Medicine at Froedert Hospital, which is the largest and busiest hospital in Wisconsin.  Dr. Farzad then went on to a residency in Ophthalmology at the prestigious Jules Stein Eye Institute of the University of California at Los Angeles, which has been consistently ranked as one of the top five ophthalmology programs in the United States.
Dr. Farzad is on the medical staff at the Jules Stein Eye Institute of the University of California at Los Angeles. He also serves on the teaching faculty of the Touro University of Nevada as an adjunct assistant professor of ophthalmology. He specializes in a broad range of ophthalmic conditions and procedures, including refractive surgery to correct near and far sightedness, photorefractive keratectomy (PRK), cataract surgery with the use of premium lenses, glaucoma and eyelid surgery, as well as cosmetic Botox and dermal filler injections.  Additionally, Dr. Farzad is the author of multiple publications in scientific journals and was selected as the first contributor in the Ophthalmology chapter of a major Geriatrics textbook.
With a father who is also a renowned ophthalmologist, Dr. Farzad's background affords him an acute understanding of patient care and provides him with an expansive and comprehensive view of ophthalmology.  He also benefits from having spent time living abroad in Iran, France and England prior to moving to the U.S.  Dr. Farzad is fluent in Farsi and French and speaks some Spanish as well.