Premium Lens Implants
During cataract surgery, artificial lenses are implanted in the eye to replace the cloudy natural lenses. These artificial lenses, known as intraocular lenses (IOLs), were once only able to correct distance vision, leaving patients dependent on eyeglasses or contact lenses for near vision. Many cataract patients, in addition to suffering from either nearsightedness or farsightedness, also suffer from presbyopia, natural changes to the eyes that occur as we age.
Before premium lenses, patients were unable to see clearly at both near and far distances without the use of eyeglasses or contact lenses. Early lens implants were monofocal, meaning that they had only one focal point and could not adjust to varying distances.
New advances in technology have allowed for the development of multifocal IOLs, which let patients see clearly at all distances, and can even correct astigmatism as well. Premium lens implants are ideal for cataract patients who are also suffering from presbyopia and want a replacement lens that provides a full range of clear vision.
There are several different types of premium lens implants available for cataract patients. Your doctor will work with you to decide which lens is best for your individual eyes to help you enjoy long-lasting, clear vision at near, intermediate and far distances. To speak with one of our doctors and discuss your options for cataract replacement lenses, please call us today to schedule a consultation.
Crystalens™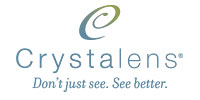 Crystalens™ is a new replacement lens (IOL) that works naturally with muscles in the eye to retain the eye's ability to "accommodate" -- to shift focus between nearby and distant objects. With older IOLs, patients lose this ability and require corrective eyewear to see clearly at near and intermediate distances.
Unlike rigid lenses, the flexible silicone Crystalens features innovative hinges that allow it to move with the eye's muscles and accommodate seamlessly, thereby reducing or eliminating the need for vision correction. The Crystalens is implanted using the same, nearly risk-free cataract surgery techniques as with other IOLs.
ReSTOR® Lens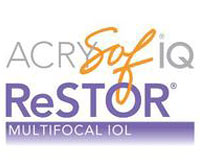 Using apodization, diffraction and refraction technologies, the ReSTOR® lens improves upon ordinary replacement lenses (IOLs) by providing comprehensive focusing capabilities so patients can see clearly in a range of lighting conditions and at all distances -- at noon or midnight, nearby or far away, and many distances in between. Up to 80% of patients who use the ReSTOR® lens don't need to rely on glasses or contact lenses after surgery.
Toric® IOL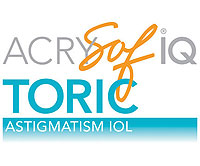 Alcon Toric IOLs are used as a replacement lens in cataract surgery for patients with astigmatism. In addition to replacing the cloudy lens affected by cataracts, Toric IOLs correct astigmatism as well as nearsightedness or farsightedness. This lens also features an advanced aspheric option that improves image quality and increases contrast sensitivity. The Toric IOLs are a light yellow color that helps filter out blue light without affecting the color or quality of the patient's vision.
Although Toric IOLs are not accommodating and may still require eyeglasses or contacts to be worn, they offer many advantages to patients with astigmatism. Most patients report a high level of satisfaction with the Toric IOL lens, as it is the only lens to effectively treat astigmatism in cataract patients.
Tecnis® Multifocal IOL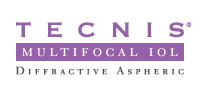 Tecnis® Multifocal IOLs helps cataract patients achieve clear vision at all distances after surgery, including improved night vision and driving capabilities. Using wavefront technology, the Tecnis lens allows patients to restore the clear, functional vision of their youth. After surgery, up to nine out of ten patients no longer need to wear glasses, results much more successful than those achieved with standard multifocal lenses. It is the only lens FDA-approved to enhance functional vision and night-driving performance.
The advanced Tecnis lens is ideal for patients who have difficulty reading and seeing objects closely, as well as those with poor night vision. This lens is implanted during the same procedure that removes the cloudy lens, and does not require any additional incisions. Patients can enjoy immediate vision improvement in most cases.